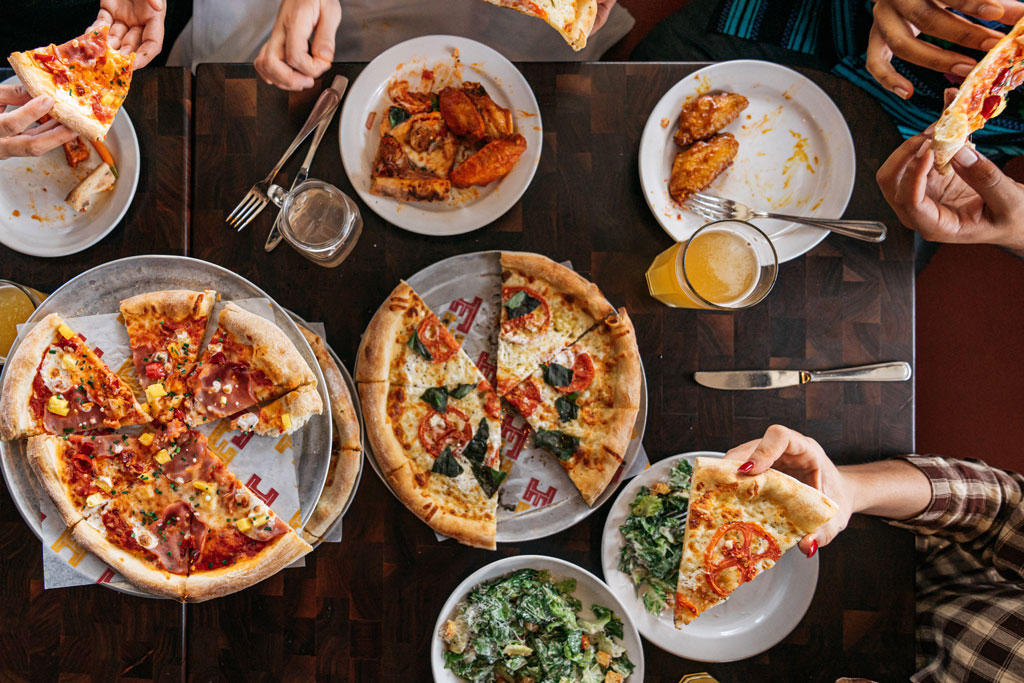 Appetizers
---
CRISPY MOZZARELLA

Distefano Mozzarella, Focaccia Bread Crumbs, Arrabiata Sauce, Ricotta Salata, Arugula + Lemon Oil 11.50

MEATBALL TRIO

Pomodoro, Crispy Polenta, Basil + Grana Padano 12.50

F&A VEG BOARD

Wood Roasted Cauliflower, Fennel, Carrots, Broccolini, Fingerling Potatoes, Grana Padano + Romesco 15

ARANCINI

Fried Risotto, Herb-Stuffed Grana Padano & Mozzarella, Pomodoro Sauce, Grana Padano + Fresh Basil 11.50

LOADED BRUSSELS

Tender Belly Bacon, Sliced Almonds, Garlic, Shallots, Saba + Lemon Herb Aioli 9.50

BUTTERMILK FRIED TENDERS

Crispy Chicken + Choice of Two Dipping Sauces: House Ranch, Blue Cheese, Windsor Gold, Honey Hot, Federal Buffalo, Romesco, BBQ 12.50

FEDERAL WINGS

10 or 15 Piece Wings served with Celery, Carrots + House Ranch or Blue Cheese. Choose between Buffalo, Honey Hot, or Windsor Gold 16/19.50
Salads
---
+ Chicken 5
HEIRLOOM CAPRESE

Fresh Mozzarella, Heirloom & Campari Tomato, Basil, Balsamic Glaze, Lemon Oil + EVOO 11

CAESAR

Chopped Romaine Lettuce, Grana Padano, Garlicky Caesar Dressing* + House Croutons 11

FEDERAL CHOP

Mixed Greens, Soppressata, Pepperoni, Aged Provolone, Pepperoncini, Tomato, Cucumber, Red Onion + Oregano Vinaigrette 11.50

CHICKEN PANZANELLA

Spring Greens, Tomato, Basil, Fresh Mozz, Currants, Pine Nuts, Herb Crouton, Fennel + Lemon Vinaigrette* 13.75

WEDGE

Romaine Lettuce, Gorgonzola, Schreiner's Smoked Bacon, Dates, Tomato, Shaved Red Onion + Ranch 11
12" pizzas Gluten free" crust + 3.5
Pan pizzas cannot be made Gluten free

MARGHERITA

Fresh Mozz, Roasted Tomato, Basil + EVOO 15

AT LAST

Broccolini, Roasted Corn, Goat Cheese, Calabrian Chilis, Basil + Lemon Oil 15

PEPPERONI

Molinari Pepperoni + Red Sauce 15

MANIFESTO

Mushrooms, Sausage, Red Sauce, Goat Cheese + Fennel 16.50

CASANOVA

Prosciutto, Dates, Ricotta, Arugula, Pecorino + Balsamic Vinaigrette 16.50

PINEAPPLE EXPRESS

Canadian Bacon, Fresh Mozz, Pineapple, Calabrian Chili + Chives 16.5

BIG STAR

Sausage, Molinari Pepperoni, Red & Yellow Bell Pepper, Mushrooms, Red Sauce, Olives + Wood Roasted Onions 17.50

MEATBALL

House Meatballs, Federal Cheese Blend, Fresh Mozz, Red Sauce, Basil + Wood Roasted Onions 17

SWEET POTATO

Sweet Potato, Ricotta, Sage + Chives 14.50
Detroit Style Pizzas - 8 square slices

STRAIGHT UP

Choice of Federal Cheese, Molanari Pepperoni or Sausage on Buttered Pan Pizza Dough
Cheese: 20 / Pepperoni: 23 / Sausage: 23

SUPREMIUM

Salami, Soppresata, Pepperoncini, Sweety Drop Peppers, Castelvetrano Olives, Wood Fired Onion, Oregano, Grana Padano on Buttered Pan Pizza Dough 23.5

THE WHITE FIG

White Fig, Blue Cheese, Wood Fired Onion, Federal Cheese Blend, Garlic Oil, Chive, Balsamic Glaze 23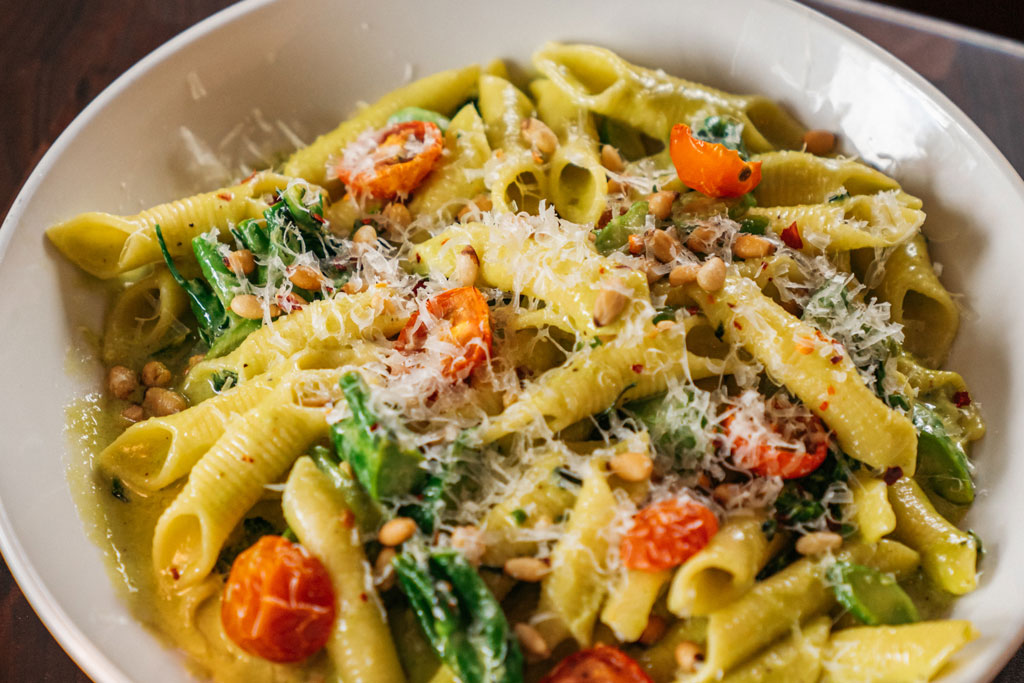 SPAGHETTI + MEATBALLS

House Meatballs, Pomodoro, Parmesan + Basil 16

GARGANELLI

Broccolini, Lemon Basil Pesto, Pine Nuts, Oven Roasted Tomatoes, Red Pepper + Grana Padano 16

MICKEY WHITE

Strozzapreti Pasta, Mushroom Trio, Porcini Dusted Chicken, Spinach, Grana Padano + Fontina Cream Sauce 17

LAMB BOLOGNESE

Lamb, Smoked Bacon, Pancetta, Torchio Pasta + Grana Padano 18

CHICKEN PARM

Crispy Chicken, Balsamic, Tomatoes, Arugula, Shaved Reggiano + Calabrian Chili Aioli 16.25
*Consuming raw or undercooked eggs may increase your risk of food-borne illness.
GREAT LITTLE SALAD

Mixed Greens, Tomatoes, Brussels, Golden Beets, Herb Breadcrumbs + Lemon Vinaigrette* 7

POLENTA

Crispy Polenta Sticks + Romesco 7

CRISPY FINGERLINGS

Fingerling Potatoes, Crispy Herbs + Romesco 7
BOMBOLINI

Warm Donuts + Chocolate Dip 8

TIRAMISU

Nutella, Ladyfingers +
Shaved Dark Chocolate 8

COBBLER

Seasonal Fruit + Churn Madagascar Vanilla Ice Cream 8

TREAT YO SELF.
Monday & Tuesday Night
$30Special
One pizza & house bottle of wine or two pitchers of beer for just 30 bucks!
any 1/2 pizza + salad of your choice for $12